Coalition Executive Director and now Senior Adviser to the Managing Director on Gun Violence gets to work with city partners. Immediate areas of focus include:
Serving as the single point of coordination and accountability for gun violence intervention programs
Refining data utilization processes used to identify Very High-Risk Individuals to ensure effective delivery of services and appropriate coordination with law enforcement
Building structures to further support improved outcomes of intervention programs
Meeting with and engaging community-based and hospital-based intervention providers to understand their operations, programs, and needs
---
Civic Coalition participates in Stoneleigh Foundation problem-solving symposium.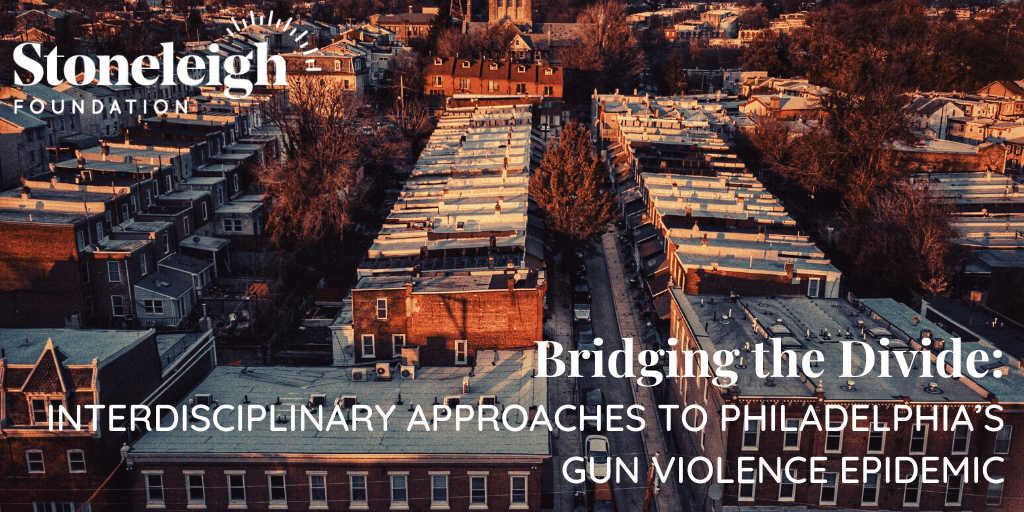 Bridging the Divide: Interdisciplinary Approaches to Philadelphia's Gun Violence Epidemic brought together stakeholders from across the city with a range of perspectives on Philadelphia's gun violence epidemic.
The convening featured Stoneleigh's Fellows, grantees, and partners working on gun violence, who shared diverse perspectives on the issue.
Problem-solving sessions focused on:
Improving coordination of services and access to data
Changing the gun violence narrative from inevitable to preventable
Building community agency and authentic partnerships
A summary of the ideas and suggestions generated during the symposium can be found here.
---
Shared ownership of the problem and solutions
In addition to day-to-day work with city officials within the Mayor's Office, Philadelphia Police Department, Managing Director's Office, the Office of Violence Prevention and the Group Violence Intervention Program, Coalition leadership has had productive meetings with a series of community, nonprofit, corporate and government officials to inform efforts, garner support and leverage resources.
Recent meetings have included:
Council Member Curtis Jones
Council Member Kenyatta Johnson
Crime and Justice Policy Lab at Penn
Department of Criminal Justice at Temple University
Einstein Medical Center
Every Murder is Real
Fund for a Safer Future
Healing Hurt People
Jewish Federation of Greater Philadelphia
Joyce Foundation
Penn Injury Science Center
PA Commission on Crime and Delinquency
PA Department of Human Services
Pew Charitable Trusts
Philadelphia Anti-Drug/Anti-Violence Network
Philadelphia Ceasefire – Cure Violence
Philadelphia Housing Authority
Scattergood Foundation
State Senator Vincent Hughes
Violence Intervention Program at CHOP
---
Upcoming Activity
Tune in to Inside Story on 6abc on Sunday, April 16 at 11:30 am as members of the Civic Coalition to Save Lives discuss the partnership with the City, the coalition's focus on intervention and work being done to bend the curve on gun violence.
Estelle Richman and Sharmain Matlock-Turner will be featured guests as the Public Sector Leadership Committee of the Forum for Executive Women hosts a special discussion on gun violence on May 23.
---
The Civic Coalition to Save Lives appreciates your continued commitment to this critical cause. There is nothing more important we can do for the city than to address the gun violence crisis.
Pedro A. Ramos
President an CEO
Philadelphia Foundation
Shawn McCaney
Executive Director
The William Penn Foundation